LIFE CANDLE SCULPTURE COMMEMORATING ORGAN DONATION UNVEILED AT ST COLUMB'S PARK HOUSE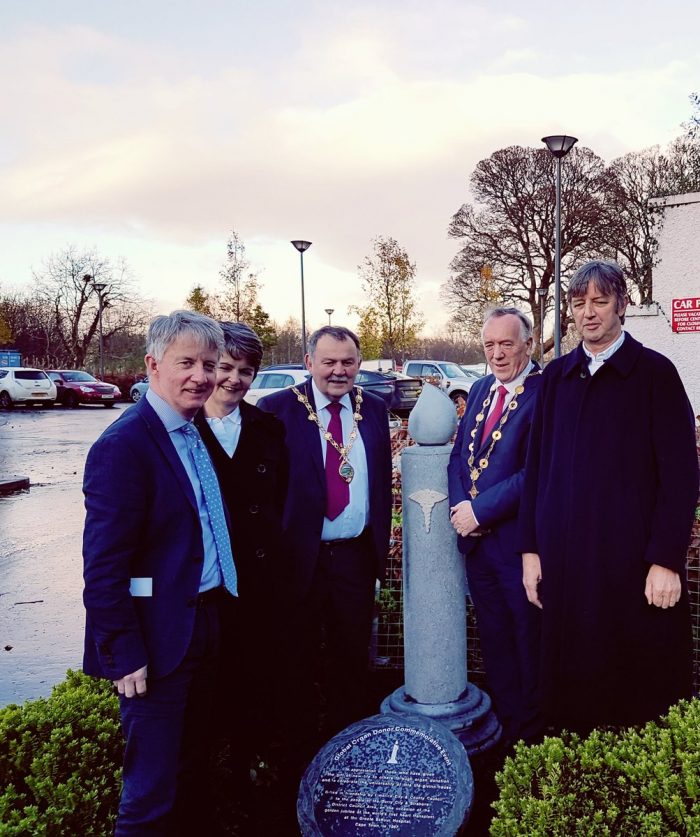 DERRY is one of a number of cities across the world that took part today, Thursday, November 30, in a global Organ Donor commemorative event that saw the unveiling of a Life Candle sculpture on the grounds of St Columb's Park House.
The project, which was co-ordinated by the Strange Boat Organ Donation Charity with Derry City and Strabane District Council in partnership with the Western Health and Social Care Trust's Organ Donation Committee, is part of a multi-national and multi-city initiative aimed at commemorating organ donors and celebrating and promoting organ donation across the world.
The unveiling of the Commemorative Life Candle Sculptures globally has been organised to coincide with the 50th anniversary of the first heart transplant having been performed in Groote Schuur Hospital in Cape Town on 30 November 1967.
Mayor of Derry City and Strabane District Council, Cllr Maolíosa McHugh who unveiling the sculpture, says Derry City and Strabane District Council is pleased to be working with the Strange Boat Organ Charity and the Western Trust on such a significant project.
He said: "I was delighted to unveil the Life Candle today at St Columb's Park House in partnership with Limerick Council, the Western Trust and Strangeboat Organ donation.
"It was afitting way to remember all those who have made the life giving gift of organ donation
"There is no greater gift that can be given than that of the gift of life to someone.
"Those who have saved lives through organ and tissue donation and transplantation should be recognised and supported in our city and district and I am honoured to be unveiling the Life Candle sculpture.
"Derry City and Strabane District Council is very supportive to the Project and the Western HSC Trust and its staff who work tirelessly to promote the message of organ donation and to recognise and thank those who have donated organs.
"We are extremely pleased that the sculpture is located at St Columb's Park House in such a tranquil and beautiful location that is easily accessible to everyone to visit and enjoy," he said.
Denis Goggin on behalf of the Strange Boat Donor Foundation, who initiated the global commemorative project, said it was their particular pleasure in dealing with the Western Health and Social Care Trust and Derry Strabane District Council, both from the point of view of the standing and obvious high regard in which the cause of donation and its community is held, and for the enthusiastic commitment to the project from day one of its introduction.
"This special event at St. Columb's Park shares with similar events", he said "in Melbourne, Cape Town, Boston, Belfast and Galway where organ donors and their families are being acknowledged and remembered for their life giving gift of organ donation".
Teresa Molloy, Chair of the Organ Donation Committee at the Western Health and Social Care Trust said they are delighted to be associated with the joint initiative.
"The Trust has developed very strong link with Strange Boat Charity thanks to the work being carried out by our Clinical Lead for Organ Donation Dr Declan Grace in association with the Strange Boat Charity to promote and create greater awareness of the gift of organ donation.
"We, through the Organ Donation Committee, work hard to promote the message of the Gift of Life from organ donation, and those directly involved in organ donation, retrieval and transportation within our Trust are delighted that donors and donations are being publicly and formally recognised in this public space.
"Approximately 7,000 people require an organ transplant annually in the UK. Sadly three patients per day and 1,000 people per year die before an organ becomes available.
"The decision to donate and thereby gift after life is an act that rightly deserves recognition and we are delighted to be associated with the unveiling of this sculpture and to be part of the joint initiative with Council and the charity. "
As part of the project participating cities have gifted a Life Candle Sculpture to a partner city.  Limerick City is gifting a Life Candle to Derry City and Derry City is gifting a Life Candle to Melbourne.
Other participating cities include Belfast, Galway, Dublin, Cork, Waterford, Boston, Cape Town, Barcelona and New Delhi.
The gifted commemorative sculptures are each a 5.5' tall carved replica of the stone sculpted candle in the Circle of Life Garden in Galway and will be accompanied by a stone tablet narrating the purpose of the project and highlighting the gesture of outreach and friendship through which the gifting is made.
Initially the Life Candle for Derry is being installed adjacent to St. Columb's Park House and a landscaped walled garden is to be constructed adjacent to St Columb's Park House during the next year.
Once work on this walled garden is nearing completion the Life Candle will be incorporated within it.