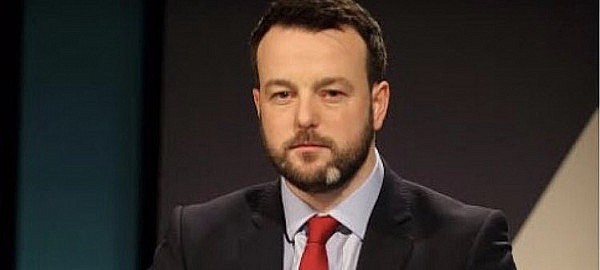 SDLP Leader Colum Eastwood has said that the revelations contained in Tuesday's BBC Spotlight programme raise serious questions for both the DUP and Sinn Féin.
The programme said DUP MLA and Stormont Speaker Robin Newton misled the Assembly by not disclosing his full role in UDA linked ex-prisoners group Charter NI.
Charter NI received millions of pounds from the Social Investment Fund, set up by the First and Deputy First Minister's Office to channel taxpayers money into groups in the community.
One of those who is a senior member of Charter NI is Dee Stitt, a UDA commander who was photographed DUP leader Arlene Foster.
The charge levelled against the DUP that it used SIF to buy UDA votes in return for funding.
Mr Eastwood said that the corruption of our politics over the last 10 years was continuing to seep out.
"The DUP and Sinn Féin were jointly responsible – it was their government, it was their status quo and they were up to their necks in it.
He said: "The serious allegations on the BBC's Spotlight programme cannot be swept under the carpet.
"Robin Newton should immediately resign as the speaker of the Assembly and his position as an MLA is now in serious question.
"Mr Newton has been misleading the Assembly and the public since last year when the SDLP Deputy Leader, Nichola Mallon, first asked him to clarify his relationship with Charter NI.
"The DUP leader needs, very quickly, to respond to the Spotlight revelations.
"The public have every right to be angry – the last 10 years of government in Northern Ireland has brought us scandals in RHI, Red SKY, NAMA and now SIF.
"The Spotlight programme also contains huge questions for Sinn Féin – they cannot wash their hands of their role in all of this.
"As a party they were jointly responsible for the SIF funds and for every other decision which went through the Executive Office.
"They were jointly responsible for the channelling of funds to groups linked to the UDA.
"Therefore, they are jointly responsible for the corruption of Northern Ireland's politics.
"This was their status quo and they were up to their necks in it," added the Foyle MLA.
Tags: