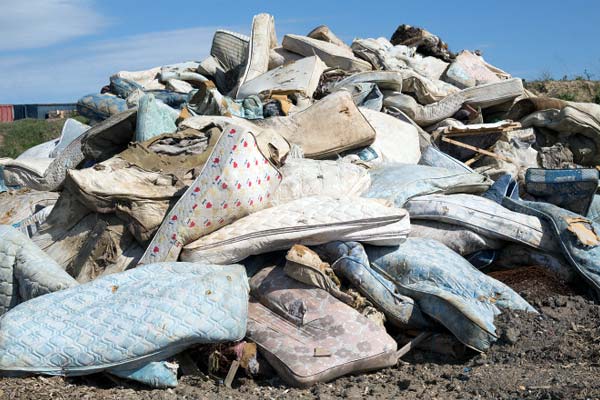 ULSTER Supported Employment and Learning (Usel), the largest supporter of people with disabilities and health-related conditions into employment in the North, has teamed up with Derry City and Strabane District Council to tackle the growing problem of the number of mattresses going to landfill sites.
It is estimated there is presently 215 000 tonnes of mattresses in landfills across the UK. Each mattress consumes 23 cubic feet of airspace. The discarded mattresses are difficult to compact, consume valuable landfill space and can take years to decompose. Their steel innersprings tear up landfill equipment, and they can also absorb hazardous materials into flammable air pockets, causing landfill fire.
In this collaborative partnership Usel and Derry City and Strabane District Council will address this growing issue and reduce the number of mattresses being diverted to landfill.
Nicola McCool from Derry City and Strabane District Council encouraging the public to avail of the scheme said that mattresses can be brought to Pennyburn and Strahans Road Recycling Centres or can be collected from your door using the Council's Bulky Waste Service.
She explained: "The Council is delighted to be working with Usel to provide this service that sees mattresses from our Council area being disassembled into various components at Usel recycling facilities across Northern Ireland before they are segregated and sent on to other facilities for further processing to be reused.
Among the ways items that they can be reused as are carpet underlay, acoustic dampening in cars and the steel springs that are sent to a local metal recycler to be melted down for reuse. Usel are the only organisation in the province to provide this recycling service.
Scott Jackson, Circular Economy Manager commented "We are very grateful to be involved in this partnership with Derry and Strabane Council and leading the mattress recycling industry within Northern Ireland.   There are 1.7 million mattresses in Northern Ireland, over 80% of each mattress can be recycled into other products and diverted from landfill sites."
Tags: