FOR all Catherine Whoriskey's success over the last three years, the Waterside Half Marathon is an event that will always have a special place in her heart.
The reigning Ladies champion will aim for a remarkable third successive win at the Derry City and Strabane District Council event on Sunday September 3rd but it is the chance to return to the scene of one of the biggest moments in her career that is foremost in her mind.
It has been another breakthrough year for the City of Derry Spartans runner as she set a new Half Marathon Personal Best of 76 minutes and 52 seconds in Omagh and won the Walled City Marathon in only her second run over that distance.
But it is her win in the 2015 WHM that stands out as the catalyst for her meteoric long distance success.
"When I started running I wouldn't have even considered a Half Marathon so to win one in my home town in 2015 was an amazing experience and a massive turning point in my career," she recalls.
"That was my first half marathon win, it gave me so much confidence that I could succeed at longer distance running and to get my first major win in front of my home crowd was such a big thing for me.
"I wasn't into long distance running at all until after I had my daughter Rionagh three years ago so I was surprised at how well I took to it when I made the step up.
"Quite quickly I could see that I was achieving more in a short space of time than I had from doing 5ks and 10ks for years so I stayed with it."
The 2017 WHM starts at 10.00 am in Ebrington Square before moving down the Limavady Road and into Waterfoot Park and Gransha Park via the Waterside Greenway.
After crossing over the imposing Foyle Bridge, runners will make their way through the Bay Road Park and along the riverbank before finally crossing the Peace Bridge and finishing at the St Columb's Park Track.
Catherine's 2015 WHM win marked the introduction of the revised route for the event, to take in both sides of the Foyle for the first time.
It is a move that has proven particularly popular with the participants and the attraction of the event for local runners is not lost on her.
"A lot of people like to do the longer distance races because of the sense of achievement that comes with completing them," she noted.
"A full marathon is a lot to take on but a half is still a good length and it's an amazing achievement to complete.
"The chance to do that on your doorstep on roads you know and in front of your family and friends is great for local people and we are lucky to have it.
"I absolutely love the course, I ran the old course in my first year and it was fine but I know this course so well and when I run it, it brings back great memories of that first half marathon win.
"It takes in so much of the city and the landmarks like the bridges and the Guildhall so it's a great showcase of Derry for runners.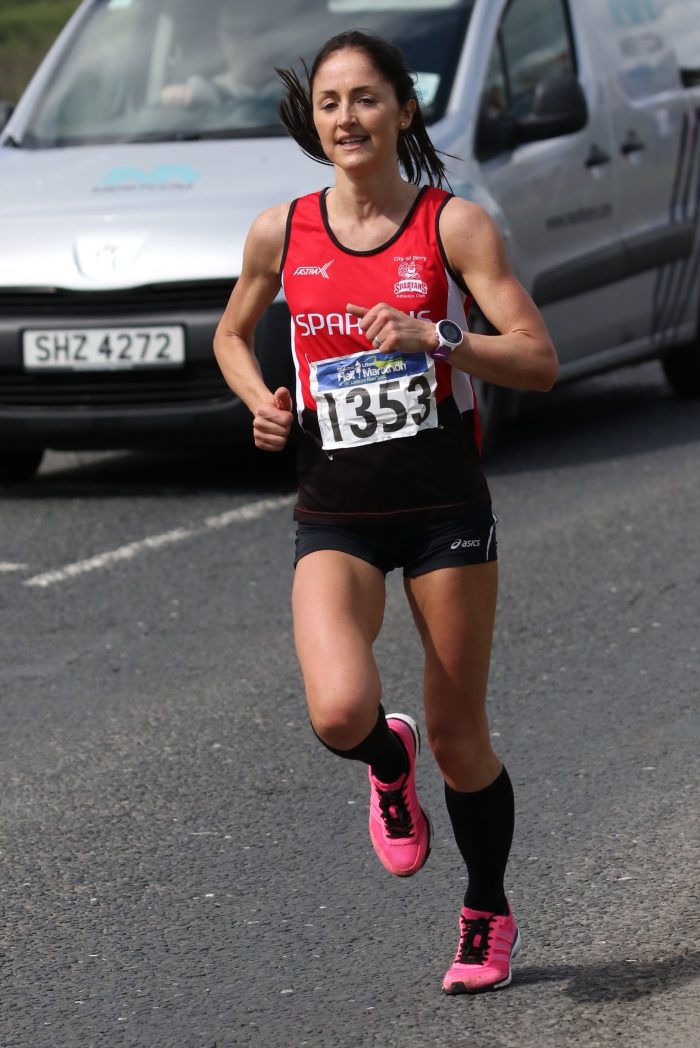 "As a runner you can travel across the world for events but you won't get that same personal support from people you know at home and nothing beats that.
"Even afterwards when I see the WHM distance markers on the ground it still brings back a great feeling for me."
The closing date for entries for this year's Waterside Half Marathon is Monday August 14th, the race fee for runners and wheelchairs is £22 while a three person relay team costs £60.
All entrants must be 17 years of age or over on race day and race packs can be collected from the Foyle Arena on Friday September 1st between 12 noon and 8 pm and Saturday September 2nd from 10 am to 4pm.
Registration is open now at www.derrystrabane.com/halfmarathon and further information is available by e mailing halfmarathon@derrystrabane.com or calling 028 71 253253.
Tags: