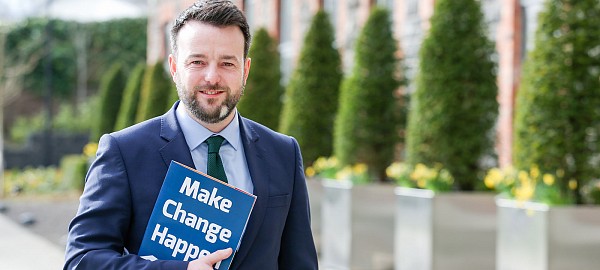 SDLP Leader Colum Eastwood says there are two days left to defend devolution.
Mr Eastwood said that the choice available to voters on Thursday is devolved government or a return to direct rule under Theresa May's Conservative administration.
Speaking at the launch of a billboard message, the SDLP Leader said:
"This was never any ordinary election. But over the last number of days and weeks, the DUP and Sinn Féin have set out a number of red line positions that make clear that they will not be going onto government together after Thursday's vote.
"So we are now in the middle of a fight for the future of power sharing.
"The choice has never been more stark – if the same parties that can't work together and don't want to work together win then we're going into a period of direct rule.
"That will mean Tory Ministers under the direction of Theresa May implementing unfettered policies of naked austerity and laying the groundwork for a hard border Brexit.
"Or there is an alternative available. There is an alternative to direct rule and unbridled Brexit.
"On Thursday, people can vote for parties that will form a government based on partnership.
"We can have a government that prioritises the health service crisis, the challenge of Brexit, building a broad based economy and delivering on all the areas important to you and your family.
"There are two futures on offer on Thursday.
"We either count down to division, deadlock and direct rule or we have two days to make change happen and defend devolution."
Tags: