DERRY is read to stage the biggest and best Hallowe'en party in its history later today.
It is all part of its 'Out of the This World' this year as the city celebrates its 30th year of spooktacular and spine-chilling festivities.
Celebrations have gone from strength to strength over the past three decades as the city embraces the events.
Derry now lays claim to being the "best Hallowe'en destination in the world" having been voted number one in a USA Today readers' poll last year.
And the organisers have gone all out this year to make it bigger and better and have billed the 2016 parade as "Out of this World".
In fact, Derry City and Strabane District Council have invited aliens to the party and say the extraterrestrial guests "have confirmed they'll be arriving in the city" later.
A World War Two siren will wail across the city to "prepare earth residents for their arrival" and a carnival parade is due to begin at Queen's Quay at 7 pm.
The celebrations will culminate in a fireworks display at 8 pm.
It promises to be a spectacular finale as the council is set to spend £30,000 on fireworks displays for the entire Derry and Strabane area.
"The world knows no-one throws a Halloween party like us," said Mayor of Derry City and Strabane District Council Alderman Hilary McClintock.
"We already have the title of 'Best Halloween Destination in the World' as voted by US Today's readers, one which is not awarded too easily.
"For 30 years now, people from all over the world have visited our city and celebrated with us in our unique Halloween celebrations, making memories and great friends during their visit."
It is not just all about 31 October – the city has been partying hard for the last three days.
Derry's Halloween festival officially began on Friday, with a packed weekend programme of "freaky family fun".
There was live music, street performances, ghost tours, spooky story-telling, fancy dress dances, a food and craft market and a 5km "zombie run".
The city's historic 17th Century walls were a dramatic backdrop to the weekend carnival, but proved no defence from the alien invaders.
The Awakening the Walls exhibition was billed as a "supernatural animation trail" featuring beautiful illuminations by local and visiting artists.
This evening Derry is making full use of its position on the banks of the River Foyle to give its visitors a whale of time.
The ghost of Dopey Dick – Moby Dick's less intelligent cousin – will make his way back up the river to join in the City of Bones carnival.
The killer whale was given his unfortunate nickname by locals in 1977 when he veered off course and swam up the Foyle into the city, and had to be helped back out to sea.
But he enjoyed his visit so much he is back for more and he is not the only one.
The Return of the Saurus – the giant, dinosaur-like beasts which made their debut at last year's carnival – are on show again at Waterloo Place.
It's all a far cry from the festival's humble beginnings 30 years ago.
Earlier this month, council worker Seamus Carlin shared his memories of Derry's first Hallowe'en carnival.
"It started as a small event in the Guildhall Square with some fireworks," the building maintenance foreman recalled.
"It took us six hours to build the 'shamrock stage' on the first year of the event."
He added: "I enjoyed the fact that everything was authentic back then, from the handmade costumes to the specially crafted designs.
"I've seen everything from witches to five Embassy Regal [cigarettes] entering the square over the years."
While in Strabane, the Upper Main Street car park will be transformed into a family friendly fun area from 7.00-8.30 pm with a fireworks display over the River Mourne at 8 pm.
Jacqueline Whoriskey, Council's Festival and Events Manager commented ahead of the events, 'Preparations are well underway and we are delighted to have up to 600 carnival participants taking part in workshops and rehearsals for the main Carnival Parade.
"Other highlights happening in and around the Council area over the Halloween holidays include the Halloween Fun Fair at Ebrington and a horror movie week at the Nerve Centre, as well as treasure hunts and spooky bat and ghost tours at Creggan Country Park.
Riverwatch Aquarium will play host to a series of fantastic ghoulish events including a Shark Night and a Barn Owl Prowl. Gray's Printing Press in Strabane will be hosting a day of Bewitching Tales.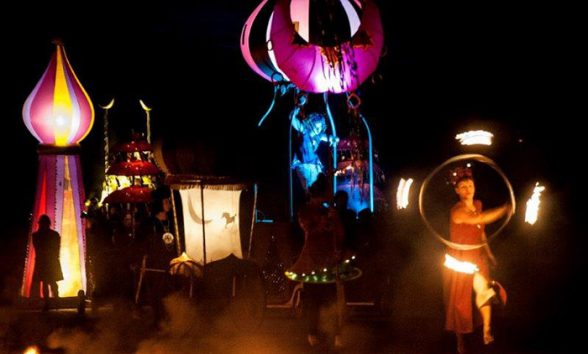 They'll also be Trick or Treat tours from the Alley Theatre and a Halloween Pool Disco at Riversdale Leisure Centre.
The public are advised to expect some disruptions to travel in and around the city centre and Strabane Town Centre ahead of this year's Derry~Strabane Halloween celebrations on Monday 31st October.
Updates on travel arrangements will be made available via local radio stations such as Radio Foyle and Q102 throughout the day and on Council's social media and websites.
Halloween carnival care information is available at http://www.derrystrabane.com/care
To find out more on all the events taking place in the Derry and Strabane over the Halloween spell check out the full programme at www.derrystrabane.com/halloween or visit the Facebook page halloweenderrystrabane.
The Banks of the Foyle Halloween Carnival is organised by Derry City and Strabane District Council and supported by Tourism NI.
Tags: