A Co Derry man has spoken about how losing his cousin to suicide was the "massive turning point" in making him seek help for his own depression.
Mark Kelly was diagnosed with depression in 2009 but admits he had been living with the illness since his early teens.
The 33-year-old says his stressful job led to him almost having a nervous breakdown in 2009.
But it was only when he took two weeks off work in the summer of 2009 that he realised just how anxious, nervous and stressed he had become.
Said Mark: "I decided to resign from my job after a series of mild panic attacks which led to me being prescribed anti-depressants from the doctor.
"I was drinking more alcohol, sleeping a lot more and not really leaving the house, which was having a detrimental impact on my body, both physically and mentally.
"I was comfortably stuck in a rut."
After deciding he needed some help, Mark told Belfast Live that attended his first support group in 2010 run by mental health charity AWARE, but unfortunately for Mark he felt it wasn't right for him at that time.
"I felt like I didn't have the right to be there, I convinced myself I didn't have depression and that I was just feeling sorry for myself, I thought I could just get better again by myself.
"I tried again in 2012, I signed up to attend the AWARE Living Life to the Full programme, but I only got as far as the door that night and walked away," he said.
Mark's confidence was at an all-time low and he believes the stigma he attached to depression is the reason he didn't pursue to get the help he needed.
A real turning point for Mark came in October 2014. With the support and help of his younger cousin Paddy, who he described as his rock, Mark started to study business at college and decided he needed to do something positive for himself.
"Paddy was a fantastic support for me, he always had a very optimistic view on things which inspired me to help myself and do something about my depression.
"Paddy had his own difficulties but he was a rock for me."
In February 2015, Paddy died by suicide, which came as a massive shock to Mark.
"He was like my little brother, and at the time, I blamed myself for his death, I thought I would never be able to forgive myself."
But the sudden death of his young cousin gave Mark the push he needed to seek help for himself.
Not long after this, Mark attended the Tuesday evening Support Group in the AWARE Offices in Derry and describes this as a "massive turning point".
Mark had reached out to a lot of groups for help but he says it was AWARE that reached back to him.
"In the sea of despair, I found my life jacket and AWARE helped pull me ashore. They have shown me the doors and it's now up to me to walk through them" he said.
Mark completed the Living Life to The Full programme and said he has no regrets.
He describes AWARE as having a real sense of community and understanding with no patronising or negativity.
Now Mark has completed his Support Group facilitator training with AWARE and helps with the Derry group, the same group he attended himself when he needed help.
This is a voluntary role and it has helped him realise that he enjoys helping other people and doing things that fulfil his days.
He's urging people to seek help and not suffer alone.
AWARE is hosting Northern Ireland's first depression conference in Belfast's Europa Hotel this Thursday, March 31m from 2-4pm, which Mark will be participating in.
The event entitled, Depression – What Works, will focus on the importance of maintaining the mental, as well as physical wellbeing of employees and will get practical support from key business and health professionals.
AWARE Chief Executive, Siobhan Doherty said: "Mental illness is costing the economy almost £31 million each year so it should not be taken lightly.
"I would encourage businesses of all sizes and interested individuals to attend our conference and find out what they need to do to address the largest single reason for absenteeism in the workplace."
Sign up for AWARE's Depression conference for free at aware-ni.org or by calling 90357820.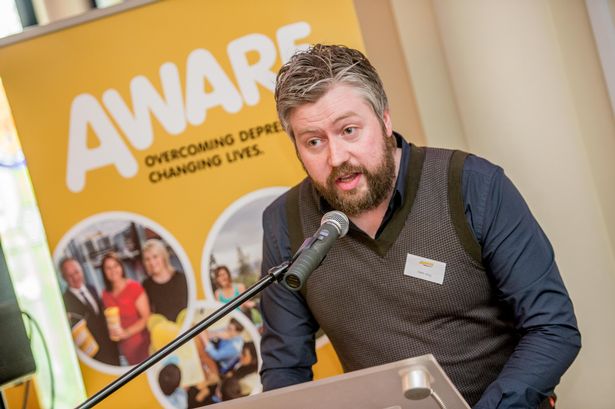 Tags: