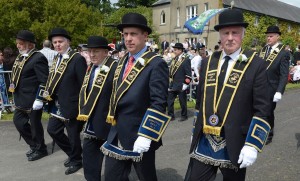 THE Royal Black Preceptory (RPB) take to the streets of Derry for the last parade of the marching season.
Members of RBP 143 and RPB 237, accompanied by the Burntollet Sons of Ulster Flute Band, left the old Waterside Health Centre on Glendermott Road at 8.30 am and made their way along Craigavon Bridge, Spencer Road, Ferryquay Street, The Diamond, Bishop Street and Palace Street to Society Street.
There they were joined by members of RBP 113 and the Churchill Flute Band before returning along the same route to the Waterside from where they will leave for the main Co Derry demonstration in Portstewart.
The RBP and bands are expected back in Derry around 6.45 pm.
The bands will parade along May Street, Bond Street, Glendermott Road and Clooney Terrace where the Burntollet band will parade along Carlin Terrace to the old Waterside Health Centre while the Churchill band will proceed to Society along the same route as that taken in the morning.
In the last parade of the season, the Royal Black Preceptory had 17,000 members on the march today.
There 370 preceptories, accompanied by 300 bands, will demonstrate at a number of venues across the North – known as 'Black Saturday'.
Tags: