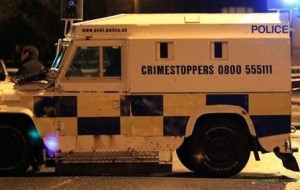 VIOLENT incidents over the past 24 hours have been condemned.
Orangemen were attacked on their way through Greysteel today; and tonight another burning barricade has been erected in the Bogside.
Sinn Féin Councillor Dermot Nicholl has said that those people who stoned buses at Greysteel returning from the Twelfth offer nothing to building understanding between the two communities.
Councillor Nicholl said: "The stoning of buses returning from the Twelfth demonstrations was wrong and could have caused severe injury or worse especially as children were aboard the bus. 
"The people involved in this sectarian attack have nothing to offer society as we attempt to build respect and understanding between the different communities.
"If we are to build understanding political leaders from all sides need to show leadership when faced with acts of sectarianism and hatred."
SDLP Councillor Brian Tierney has condemned those responsible for targeting firefighters in the city.
It follows incidents in Galliagh and the Bogside – with more incidents tonight.
He said: "Over the Twelfth, the city's firefighters are placed under incredible strain. I want to thank them for their selfless work to keep people and property safe.
"I was shocked to hear that a number of firefighters came under attack in the Galliagh area last night after pallets were dragged into the middle of a road and set alight. Those behind it clearly had no regard for the hard work that the fire service undertakes to keep them and their communities safe.
"I would urge anyone with any information to bring it forward to the police as soon as possible. Firefighters deserve our respect and thanks, they should not be the targets of crime and anti-social behaviour."
Tags: