NWRCBG EUROPEAN UNION CELEBRATION AND FUNDING EVENT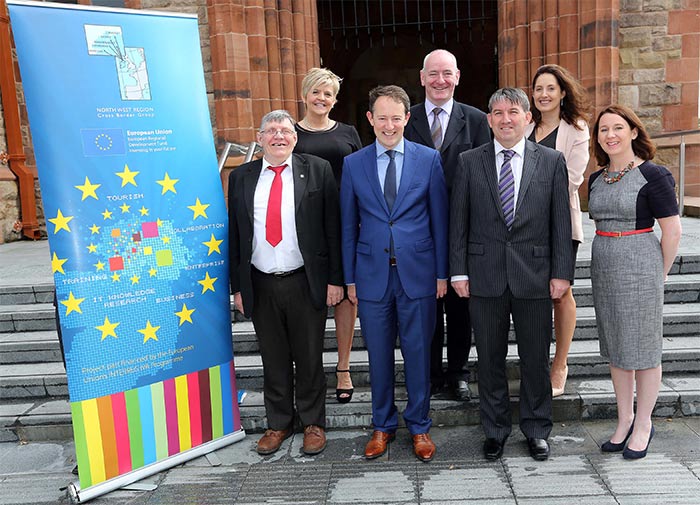 THE North West Region Cross Border Group (NWRCBG) was delighted to have an opportunity to showcase the excellent work carried out by their Partner Councils and organisations at a special EU Celebration and Funding event held in the city.
Funded by the European Union's INTERREG IVA Programme, the event celebrated the successful delivery of projects led by NWRCBG, worth an investment value of €20million.
Principal speakers at the event included Mark Durkan MP, Minister Sean Sherlock TD and Lorraine Mc Court, SEUPB.
Minister Sherlock, who has special responsibility for North South Co-operation at the Department of Foreign Affairs, acknowledged the valuable work carried out by the North West Region Cross Border Group.
He said that the achievements being celebrated "are the culmination of an extended period of collaboration and co-operation by many different groupings based here in the North West and demonstrate the positive outcomes that can be generated by communities working together for the common good".
He added: "Many lessons have been learned and ultimately a range of meaningful projects have been delivered. These projects will, in a variety of ways, enhance the infrastructure and quality of life of those living in the North West."
Minister Sherlock also acknowledged the financial contribution and commitment from both governments to the INTERREG IVA Programme.
Lorraine McCourt, SEUPB, commended NWRCBG Members and staff for their professionalism in delivering such a wide range of projects so successfully.
She also acknowledged the importance of EU funding such as the INTERREG programme in aiming to create a more prosperous cross-border region, a core objective of the Programme.
Mark Durkan MP congratulated the Councils of the North West Region Cross Border Group for their continued commitment to work together to 'strengthen and develop the regional economy through collaboration.'  He added that he hoped the important relationships and partnerships that have been developed through this work will be maintained and strengthened through times ahead.
Project Partners had the opportunity to showcase the excellent work carried out by the Councils and partner organisations.
Paul Canning, Chair of the NWRCBG, said that "the work of all these project teams must be commended.
The projects were all delivered within the time frame of the programme, with targets being met and often exceeded and it is all of us as residents of this region who will see the benefits in years to come.
The afternoon session provided an opportunity for guests to hear about the new EU funding programmes and opportunities for 2014-2020.
Declan Mc Garrigle and Lorraine Mc Court from the Special EU Programmes Body, outlined the new INTERREG V and PEACE IV Programmes, along with other transnational/interregional programmes.
Richard Osterhus, Derry City and Strabane District Council presented on Horizon 2020, Creative Europe and other funding opportunities.
As Councillor Paul Canning closed the afternoon event, he stressed to those in attendance that "it was vitally important that we continue to work collaboratively to secure further funding for our Region."
He added that "a tremendous amount of work has already been carried out but there is still an enormous task ahead of us."
Cllr Canning also acknowledged the work of his NWRCBG colleagues and staff in delivering such important economic and social benefits to our region.