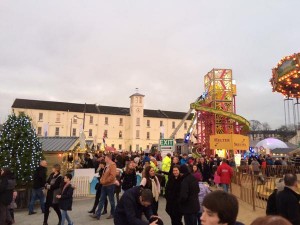 THE ROW over Derry's Christmas market at Ebrington Square has taken a new twist with one trader insisting: "We're not ripping off anyone."
Derry woman Jenna Devine said it was unfair to brand all stall holders as rip-off merchants.
And she said she did a roaring trade from her Candy Cart stall because what she had to offer was good value for money
"I'm a trader selling sweets from my Candy Cart at the Christmas markets this year with my husband, both of us are from Derry," she said.
"I couldn't help but be annoyed at your report on the negative side of the Christmas markets. How about running a report from the positive reports as well?," she complained (having missed our first report here: http://www.derrydaily.net/2014/11/30/christmas-in-the-derry-air-as-thousands-flock-to-ebrington/)
Said Jenna: "Everyone who I've met at our stall really enjoyed themselves. We sold 600 bags inside two days and we were told countless times that we were very affordable – often with families of 4/5 all getting a bag of sweets each.
"Although I do know some stalls are selling burgers & hotdogs for ridiculous prices, this shouldn't be a reflection on the hard working people throughout the rest of the markets. I just thought I'd point that out so people aren't put off visiting this beautiful Christmas village."
Our initial report on the market – in which tourists praised the atmosphere there – sparked a flurry of protests from our readers who complained many stalls at the market are over-priced.
One punter claimed it cost £12 for two hotdogs….and £4 for a hot chocolate.
However other readers insisted those complaining would complain about everything.
Tags: