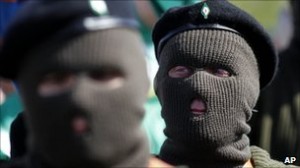 Sinn Fein MP Pat Doherty has called on threats against community workers in Strabane to be lifted.
Four community workers in the town resigned their posts after threats from a group calling itself the IRA vowed to target any civilian who helped police at suspected bomb scenes.
The warning came after the latest security alert in the town during which the group claimed police had used members of the local community to survey the scene before attending themselves.
Calling for the threat to be lifted, Mr Doherty said: "Any threat to community workers is an attack on the whole community."
He added the people of Strabane were "rightly outraged" at the threats.
Mr Doherty added: "The contrast between the activities of these criminal gangs masquerading as republicans and the contribution of community workers in delivering essential services to residents has not been lost on anyone."
Mr Doherty said those responsible for issuing the threat must state publicly that it was "lifted immediately."
He added: "These armed gangs need to leave the stage and allow people to build a better future for themselves and their families free from threat."
Mr Doherty concluded: "People need to be able to get on with their lives without the shadow of these gangs hanging over them, who are besmirching the honourable title of republican."
Tags: