The people of Derry and the North West have been called on to support Irish charities working on the ground in Gaza in efforts to help the tens of thousands affected by the crisis there.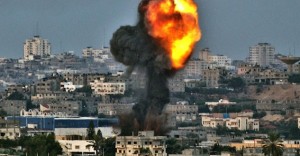 The call comes from Sinn Fein Cllr Colly Kelly who said food, water and medical supplies were urgently needed.
Cllr Kelly said: "The latest atrocities in Gaza, the results of which are being witnessed on TV screens around the world must immediately impress upon world leaders that the time for condemnation alone has passed.
"The international community including the Irish Government, must intensify efforts to resolve the situation before it deteriorates any further.
"There is a humanitarian disaster in Gaza as a consequence of the long standing Israeli policy of sanctions and most immediately the current Israeli assault on that region.
"There is a growing shortage of basic foodstuffs and fresh water because of damage to the infrastructure in Gaza. Humanitarian aid must have unhindered access to all areas of Gaza in order to provide for the population there, the local health services and aid infrastructure. hospitals are stretched to breaking point.
"There are ways people in Derry, Donegal and Donegal can practically help those vital aid relief efforts by supporting Irish charities such as Trócaire.
"They have been working in Israel and in Gaza since 2002 and are supporting local organisations on the ground, who are distributing urgent medical aid to vulnerable people there."
Donations can  made online at https://www.trocaire.org/donate/make-a-donation?fund=Gaza
Tags: