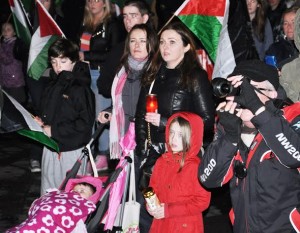 A candlelit vigil in support of the people of Palestine is to be held in Derry tonight.
The event, taking place on the grass banking below Derry's Walls at Fahan Street from 9.30pm, is being held to mark fourth week the start of the Israeli bomb attacks in the region.
Mickey McCrossan, chairman of Ogra Shinn Fein in Derry who are organising the vigil, called on as many people as possible to attend.
He said: "Tuesday 5th August marks four weeks since the bombardment and slaughter of Palestinians commenced under Operation 'Protective Edge.'
"For this reason Ógra Shinn Féin Doire have found it appropriate to mark this with a vigil of solidarity to pay our respects to all those men, women and children murdered by Israel in this time which going into the weekend passed over 1.400 Palestinians and this continues to rise as residents and aid agencies get a chance to search bombed out buildings.
"We call on the people of Derry and our neighbouring counties of Tyrone and Donegal to join with us in holding a candlelight vigil meeting at the bottom of Fahan Street (beside Free Derry Corner) to line the banking below Derry Walls."
Mr McCrossan concluded: "Assemble on Tuesday night at 9.30pm and bring candles, Palestinian flags and emblems of support. We need to continue to send a clear message,we stand with Palestine. All these events do count."
Tags: